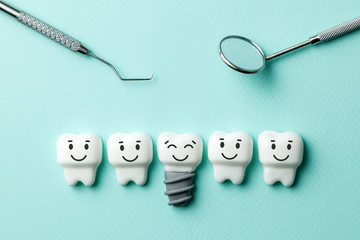 One of the great things about living in today's world is the fact that you don't need to settle for a smile that you aren't confident showing off. If you are missing teeth, there are a few different tooth replacement options to choose from, including dental implants. Implants have become a preferred option by dentists and patients alike because of their many benefits, like the fact that they're long lasting, but what exactly does that mean? Read on to learn more about the lifespan of dental implants and what you can do to get the most out of them.
How Long Do Dental Implants Last?
Dental implants are a permanent tooth replacement option. They can last upwards of 25 years or even the rest of your life if you care for them properly. There are a few different factors that contribute to the life of dental implants. Here are some of the most prominent:
Overall health
Gum health
Location of the implant
Proper maintenance
How Can You Get the Most Out of Your Dental Implants?
There are many things that can contribute to the life of your dental implants. Here are a few steps that you should be taking in order to keep your implants healthy for as long as possible:
Oral Hygiene: The crown that is attached to your dental implant isn't susceptible to tooth decay like your natural teeth are, but this doesn't mean that you can neglect your oral hygiene. Brushing and flossing each day is necessary in order to keep your gums and surrounding teeth in good health. If you end up with gum disease, you are much more likely to experience a dental implant failure.
Proper Use: Your dental implants are made to help you chew your food, hold in saliva, and prevent bone loss. You shouldn't be using them to pop bottles, open packaging, chew on ice, or bite on your fingernails. You could end up damaging them.
See Your Dentist: You should see your dentist for regular cleanings and checkups in order to keep your smile healthy. This is especially important when you have dental implants. If you have any issues, your dentist will be more likely to catch them early on so they can be restored to health.
Dental implants have many different benefits, but you won't be reaping them for a long time if you aren't caring for your smile as well as you should. Use the tips listed above so you never have to worry about your missing teeth again!
About the Author
Dr. Joseph E. Hickey earned his dental doctorate from the Indiana University School of Dentistry and prioritizes continuing education in order to keep his knowledge and skills sharp. He pursued state-of-the-art training with the Implant Dentistry Continuum which offers a comprehensive approach to implant training. For more information on dental implants or to schedule an appointment at his office in Granger, visit his website or call (574) 277-4235.