Dental Implants – Granger, IN
Restoring Missing Teeth From The Roots Upward
For our patients with missing teeth who are looking for a more permanent and long-lasting alternative to dentures, we offer dental implants in Granger, IN. Unlike many dental offices, our team is able to complete the entire process under one roof, from the planning stages all the way to the finish line, where we'll get to reveal your new smile. We also use the latest dental technology for added precision and accuracy such as a CT/cone beam scanner. To learn more, be sure to schedule a consultation today!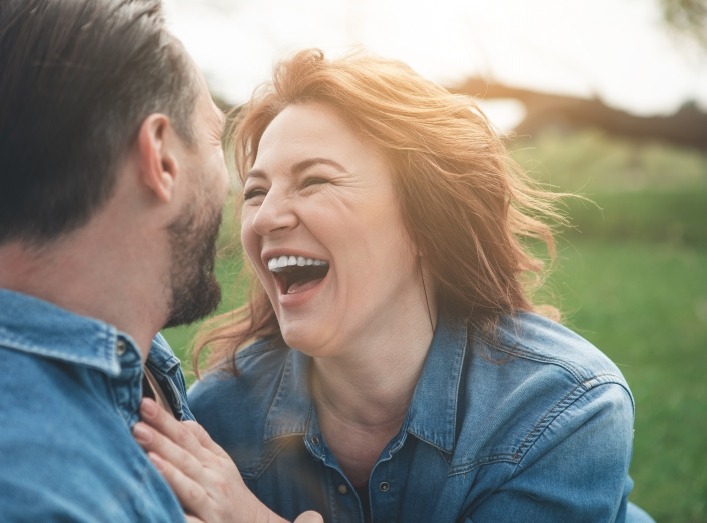 Why Choose Granger Dental Group for Dental Implants?
In-House Dental Implant
Placement
Highly-Trained & Experienced
Implant Dentist
CT/Cone Beam Scanner Allows
For Precise Planning
What is a Dental Implant?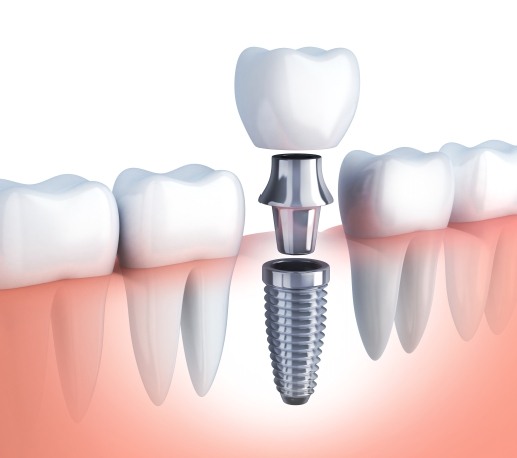 A dental implant is a titanium post that is surgically placed below the gumline and naturally fuses with the jawbone. It replaces the missing root of a tooth to help continue providing blood flow and stimulation to the area, preventing bone loss. Atop the implant(s), a dental crown, bridge, or denture can be attached, holding the new teeth securely to provide patients with a variety of unique benefits compared to traditional restorations.
Benefits of Dental Implants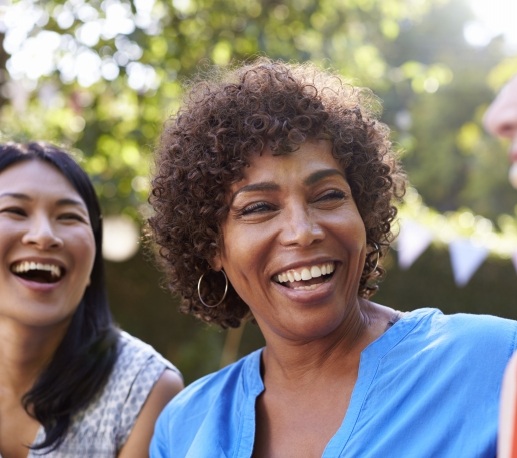 When you decide to get dental implants in Granger, you can look forward to experiencing several unique benefits that traditional bridges and dentures simply can't provide. After all, dental implants are the only tooth replacement that brings back the entire structure of a lost tooth, which enables them to feel and function just like the genuine article. It's no wonder that millions of Americans currently have dental implants, and about half a million more are rebuilding their smiles with them each year! Here are a few of the life-changing advantages you can expect with dental implants.
Are Dental Implants Right For You?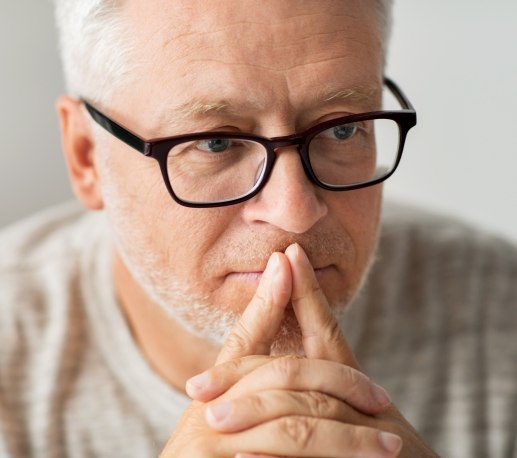 Many people are surprised to learn that dental implants are incredibly versatile and can address different types of tooth-loss. Whether you're missing a single tooth or an entire arch, we can secure several different restorations to implants so you can enjoy all of the benefits that this procedure has to offer.
Missing One Tooth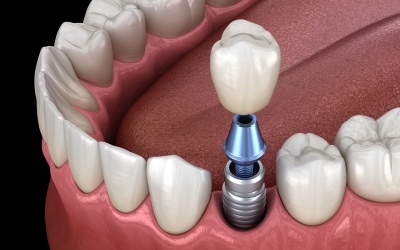 For a single missing tooth, we can place one dental implant in the gap below your gums. We can then craft a customized crown to be anchored to your implant. Once in place, your new restoration will seamlessly blend with the teeth around it and look like it was always there.
Missing Multiple Teeth
Depending on the location of your multiple missing teeth, we can either anchor a bridge or partial denture to your dental implants to restore your smile. We can do this by placing two or more implants and securing the prosthetic to them.
Missing All of Your Teeth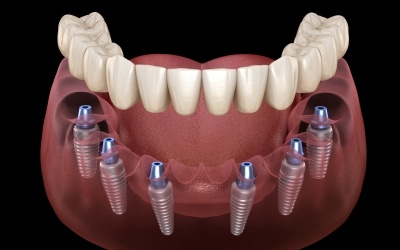 For patients who are missing all of their teeth, we also offer implant-retained dentures and All-On-4. Both of these solutions can replace an entire arch of teeth using just four to eight dental implants along an arch.
Cost of Dental Implant Treatment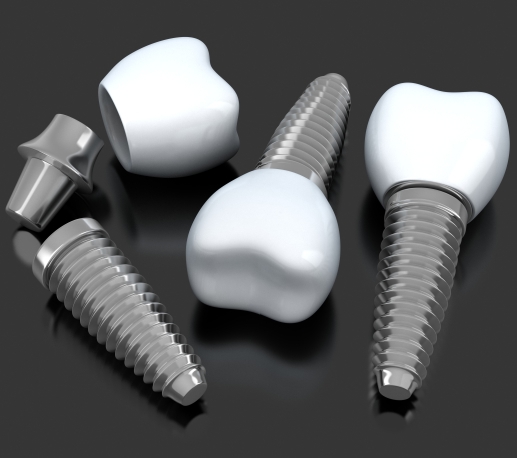 The cost of your dental implant procedure can be broken up into several payments spread out across the course of the process. This allows patients to easily financially plan along the way, since many dental insurance providers don't cover the cost of the treatment. Some of the different services that may incur separate fees include:
The consultation
Sedation
The surgery
The abutment placement
Crafting & placing the restorations
If you have any questions or would like to learn more details about the procedure, be sure to contact our dental office to schedule a consultation today.
Maintaining & Caring for Your Dental Implants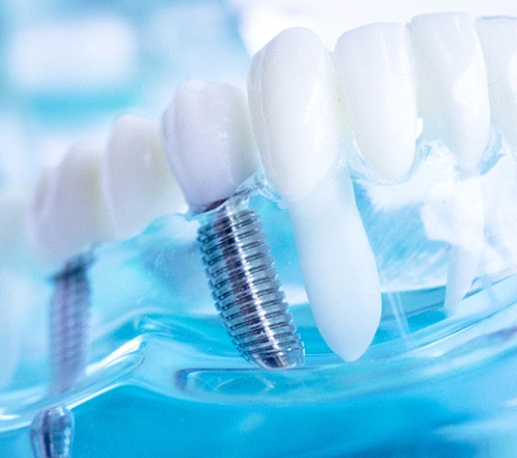 After investing so much patience, money, and time into restoring your smile with dental implants, it makes sense to do whatever it takes to allow them to last as long as possible. With the right maintenance, your new pearly whites can provide you with a functional and beautiful smile for 35 years or longer. Below, we've listed a few suggestions that we have to keep your oral health on the right track and help your dental implants in Granger last as long as possible.
Dental Implant FAQs
Are you just now learning about dental implants after being told that you need to have a tooth extracted? If so, you may be surprised by just how effective dental implants are at replacing teeth. However, we understand that you may also have questions. Below, you can read a handful of the most common questions we hear as well as our detailed responses for your convenience. If you need additional guidance, please don't hesitate to give us a call.
How do I know if dental implants are right for me?
The best way to confirm if you are eligible to receive dental implants is by completing a detailed examination with our office. During this consultation, we'll not only confirm how many teeth are missing, but the current status of your oral health. For example, we can find out if you need to have gum therapy performed or other teeth extracted to make room for an implant-retained restoration. Additionally, if you have suffered bone loss since the tooth was extracted, a bone graft could be needed to ensure the most successful treatment possible. If you use tobacco, you'll need to discontinue it permanently to avoid implant failure.
Does it hurt to receive dental implants?
During the actual implant procedure, the treatment area and the surrounding gum tissue are fully numbed with local anesthetic to ensure no sensations are felt. This makes the treatment itself relatively easy to complete. With that said, there will be some minor swelling and discomfort following your treatment, which is common regardless of the type of oral surgery you receive. Our team will provide you with aftercare tips to manage your comfort during this healing period.
How long does dental implant treatment take?
All in all, the length of your dental implant surgery will vary based on how complex your needs may be. For example, if you only need to have one tooth replaced, surgery could be completed anywhere between 30 minutes and an hour. However, complex surgeries that involve replacement of multiple teeth could take a few hours. Keep in mind this only refers to the surgical portion of dental implant treatment. The healing phase where the implant integrates with the existing bone and soft tissue takes anywhere between four and six months.
What's the best way to take care of dental implants?
One of the many benefits of dental implants is that taking care of them is largely the same as caring for natural teeth. It's true that the ceramic crown that attaches to the implant cannot develop decay like natural enamel can, but the gum tissue that has integrated with the dental implant can easily become irritated and inflamed if you don't practice routine oral care and maintain professional checkups and cleanings. If you choose to have an implant denture or bridge attached, a water flosser or interdental brush can make cleaning underneath the restoration substantially easier.