Dentures – Granger, IN
Helping You Regain a Functional Smile
Whether you're missing several or all of your pearly whites, it's important to get them replaced. Without the full function of your smile, many areas of your day-to-day life can be difficult. That's why at Granger Dental Group, we offer customized dentures that can help you regain your confidence and ability to chew your favorite foods. Our dentures in Granger, IN are made from high-quality, natural-looking, and durable materials designed to endure the test of time. We invite you to get started by calling us today and scheduling your denture consultation!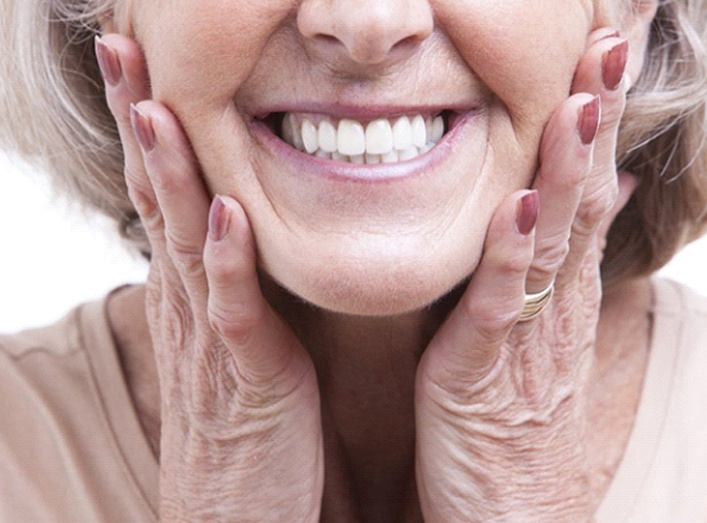 Why Choose Granger Dental Group for Dentures?
Trusted by Granger Families Since 1983
State-of-the-Art Implant Dentures Available In-House
In-Network with Multiple Dental Insurance Providers
Who's a Good Candidate for Dentures?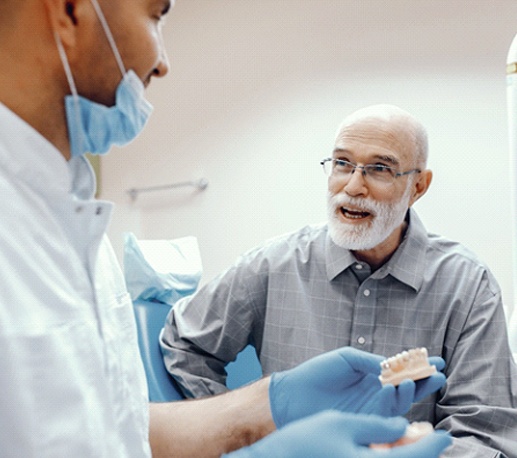 If you're interested in getting dentures but aren't sure whether you'd qualify for them, don't worry. When you meet with either Dr. Hickey or Dr. Campbell for a consultation, our team will assess your medical and oral health, learn about your lifestyle habits, and ask about your goals for your new smile. With this information, we can formulate a detailed treatment plan so that you can enjoy a complete bite again.
Types of Dentures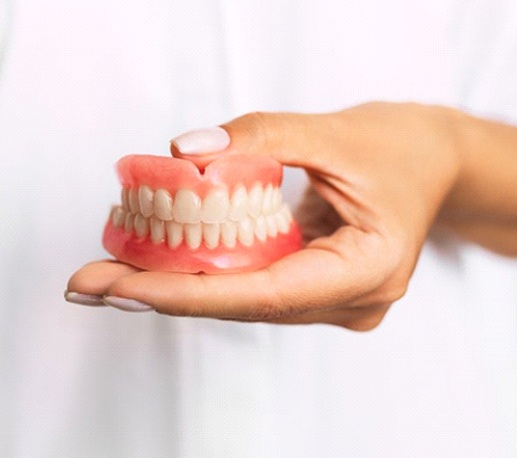 Dentures actually come in multiple varieties, and we may recommend a particular one to meet your specific needs. Here's what you need to know about the different types of dentures:
Partial Dentures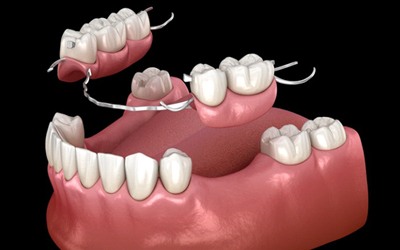 Often referred to as simply "partials," partial dentures are ideal for patients who are dealing with – as the name implies – partial tooth loss. This prosthetic uses a gum-colored base and a metal framework to support a number of artificial teeth, which seamlessly fill in the gaps between your remaining pearly whites.
Full Dentures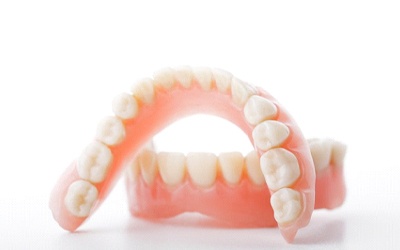 Full dentures, on the other hand, are better suited to patients who have lost an entire row of teeth. The pink base holds an arch of replacement teeth using natural suction against the gums, denture adhesive, or a combination of the two.
Implant Dentures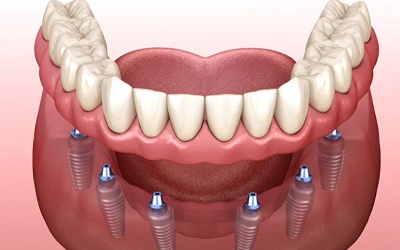 Implant dentures are the perfect mix of tried-and-true traditional prosthetics and state-of-the-art dental implants. With this solution, your full or partial denture is anchored onto titanium posts that we place in your jawbone to serve as replacement tooth roots. As a result, your jawbone remains strong, you won't need to worry about slippage, and your new teeth can last for 30+ years.
The Benefits of Dentures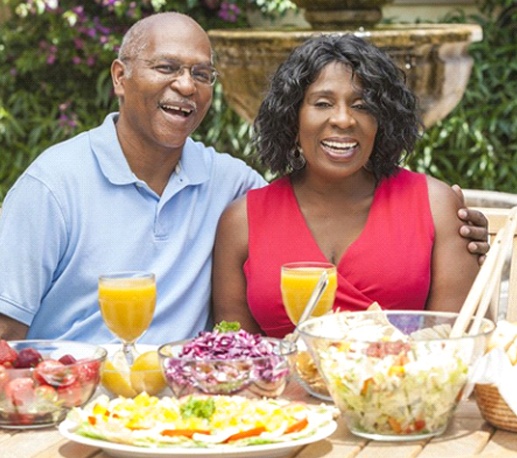 As we mentioned above, modern technology has made today's dentures more lifelike in look and feel than ever before. Some of the benefits that dentures let you enjoy are:
Newfound confidence in your smile
The power to chew your favorite foods more easily
Affordable, noninvasive tooth replacement
Results that can last for up to a decade
Removable prosthetics for easy cleaning
Dentures FAQs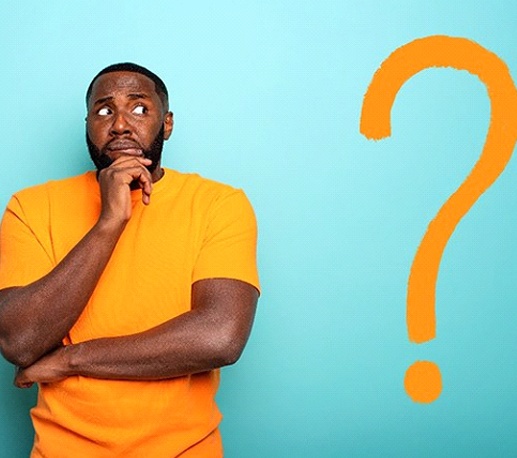 With dentures in Granger, we can help you regain a functional, reliable smile. However, it's only natural to have some questions when considering the best way to replace your missing teeth. During your consultation, we'll be happy to answer all your questions personally and walk you through the entire process so you can make a well-informed decision confidently. In the meantime, we've gathered some of the most common questions we get about dentures below so you can learn more. If you don't see the information you're looking for, don't hesitate to give us a call!
How Long Do I Have to Wait to Get Dentures After Having My Teeth Pulled?
We'll always do everything we can to preserve your natural teeth. However, if the tooth has become irreparably damaged or infected, then it may be necessary to extract it. If you need to have one or more teeth extracted before being fit with dentures, you'll need to wait a little while so your gums can heal. This will also ensure that we're able to take accurate impressions. Typically, you'll need to wait six to eight months after your tooth extraction to get dentures, but your time may be longer or shorter depending on your health and other factors.
Can I Sleep with My Dentures?
No one wants to be caught without their teeth! However, we strongly discourage sleeping with your dentures in. When you first begin wearing your dentures, we'll likely instruct you to wear them all day every day to help your mouth adjust. After the first week or two, you'll need to begin taking them out every evening before you go to bed. Soaking your dentures overnight is the best way to clean out the plaque and bacteria hiding in the nooks and crannies. Additionally, it will give your gums a chance to rest, which will help you avoid gum tissue irritation.
What's the Average Age for Getting Dentures?
Severe tooth loss can happen at any age, but it's no secret that it becomes more likely to occur with age. Recent surveys suggest that of the 23 million Americans who have no natural teeth left, the majority are over the age of 65. 90% of those without teeth wear dentures. Other findings show that patients are most likely to need their first set of full or partial dentures over the age of 40. Fortunately, there is no upper or lower age limit for dentures. Naturally, dentures are not typically recommended for children, but they are often an ideal choice for adults of any age who are dealing with moderate to severe tooth loss.
Does It Hurt to Get Dentures?
While dentures are one of the least invasive methods for replacing missing teeth, you can still expect to feel some slight discomfort. After all, your gums need to get used to supporting your new smile. It's normal to experience some gum irritation or soreness, but this should be easily manageable with over-the-counter pain relievers. Your mouth will take some time to adjust to your dentures, so make sure to minimize the side effects by eating softer foods and chewing evenly on both sides of your mouth. While every patient's adjustment period is different, you should begin to feel back to normal within a month or so. If you don't, or if the discomfort seems to be getting worse, don't hesitate to call us right away for assistance!