Dental Crowns – Granger, IN
Protecting and Preserving Your Natural Teeth
If you're embarrassed by your noticeably chipped, cracked, decayed, or worn-down teeth, the team at Granger Dental Group is here to help. Dr. Hickey and Dr. Campbell can use dental crowns, also known as caps, to restore function to your smile while delivering unmatched, natural-looking results. To learn more about the benefits of dental crowns in Granger, IN, be sure to schedule a consultation today!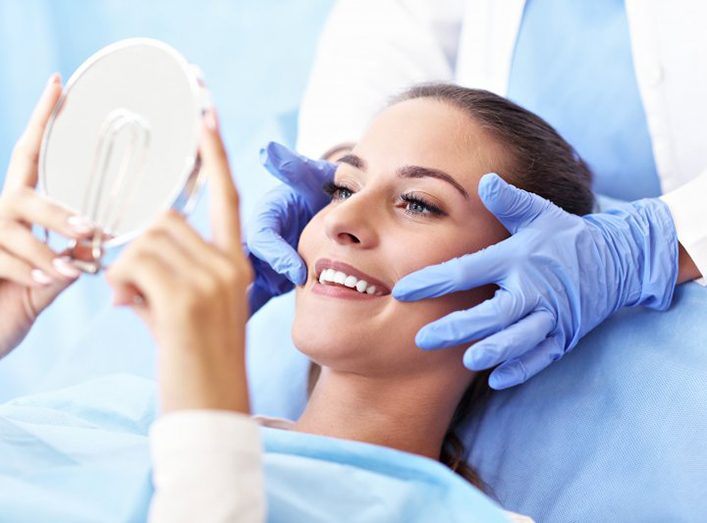 Why Choose Granger Dental Group for Dental Crowns?
Heal and Protect Damaged Teeth
Highly Skilled Restorative Dentists with Years of Experience
Digital Impression Technology Eliminates the Need for Putty
What Are Dental Crowns?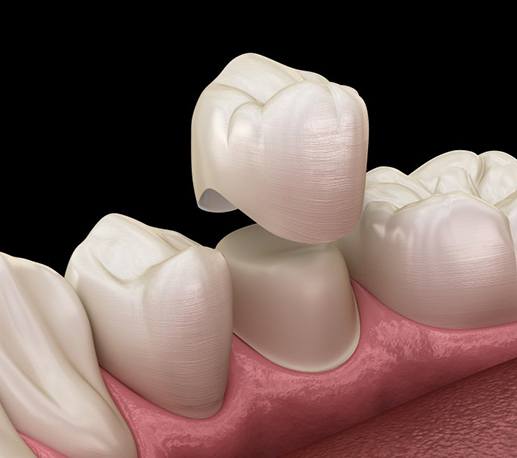 A dental crown is a restorative solution designed to cover the entire part of a tooth that's visible above the gums. It protects a vulnerable tooth from additional damage and preserves the correct natural alignment of your jaw.
Crowns can help reverse a variety of oral problems, including broken teeth, severely misshapen or worn-down teeth, teeth that have sustained a large amount of decay, and several others. We can craft strong crowns from a variety of materials, but most of our patients prefer all-ceramic or porcelain restorations because they're virtually identical to natural teeth.
Benefits of Dental Crowns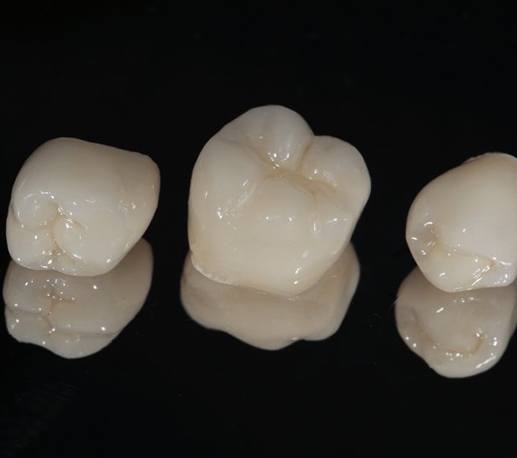 Because porcelain and ceramic dental crowns come in virtually every tooth-colored shade imaginable, you can rest easy knowing your restoration will blend in with the rest of your pearly whites. These materials are also durable enough to withstand daily biting and chewing forces for up to a decade or even longer. You'll be able to smile with confidence again for years to come.
Furthermore, having a decayed or broken tooth in Granger can be quite painful. A crown can protect it from discomfort and sensitivity. Additionally, this protection can prevent the tooth from suffering so much damage that it has to be extracted.
The Process of Getting a Dental Crown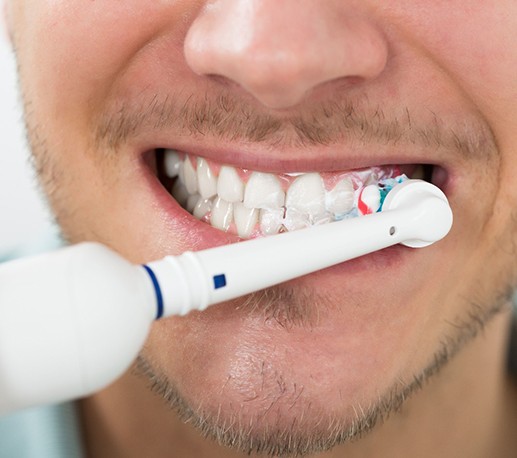 Receiving a dental crown requires two separate appointments. The first is when we prepare the tooth and take digital impressions to design the prosthetic. Then, we send this data to a dental lab, where the crown is custom-made to fit your mouth perfectly. In the meantime, we can place a temporary crown to protect your tooth and get used to the way the crown will feel in your mouth. When it's ready, you'll attend your second visit to have it cemented in place. We may need to make minor adjustments to make sure your bite feels comfortable.
Caring for Your Dental Crown
Once we've fitted you with your crown, you can essentially take care of it in the same way as you would any other tooth. Daily brushing and flossing can minimize bacterial growth near the base of your crown. Keep in mind that having a crown doesn't mean the tooth underneath it can never become infected or decayed.
Also, visit us at least twice a year for a preventive exam and a professional teeth cleaning. These routine appointments can prevent you from needing more costly and extensive dental treatments down the road.
Dental Crowns FAQs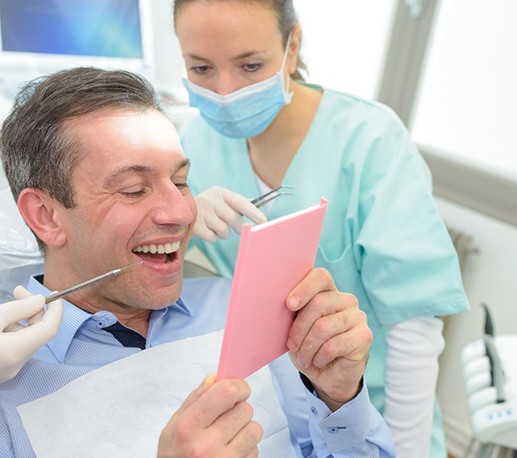 From their high-quality, durable material to their custom-made, life-like design, dental crowns are an excellent way to seamlessly restore your smile. We know that many patients like to do their research before giving us a call, which is why we have answered a few frequently asked questions below. If you can't find the answer to your question or want to speak with our team directly, don't hesitate to contact our office so our fantastic staff can provide you with immediate assistance!
What Is the Difference Between a Temporary Crown and a Permanent Crown?
To completely restore the function and esthetic of your damaged tooth, you will have a temporary crown placed while the permanent one is being constructed. However, many patients wonder what the difference is between the two. Basically, as the name suggests, the temporary one is a short-term solution that protects your tooth until your permanent one is ready. Since its makeup isn't as durable, you'll be asked not to chew on that side until the permanent crown is cemented in place.
Can You Still Get Cavities While You Have a Dental Crown?
Although the crown itself is cavity-resistant, the tooth it's protecting certainly isn't. Fortunately, you can prevent bacteria and food particles from slipping under the restoration and attacking what's left of your enamel by implementing a solid oral hygiene routine. With this in mind, make sure to brush twice a day, floss daily, limit sugary foods and beverages, and, of course, visit our office every six months for a professional cleaning.
Will Dental Insurance Pay for a Crown?
As long as the crown is considered medically necessary, it is likely that your dental insurance provider will cover a portion of the cost. Although each plan is unique, crowns are typically considered a major procedure across the board, which means roughly 50% is covered. Plus, our team can help make the claims process seamless by handling all the paperwork for you to maximize your benefits. That way, all you have to worry about is taking care of your restored smile!
Is Getting a Dental Crown Painful?
Since many patients' dental-related anxiety comes from fear of pain, it's not too surprising that this question always makes the list. To ensure you are comfortable as Dr. Hickey and Dr. Campbell treat your damaged tooth, they will completely numb the area beforehand. Once you are home and the numbing agent wears off, you may experience some soreness and discomfort, which can be addressed by rinsing with salt and warm water and taking over-the-counter medication as needed. When you come back for your permanent crown, we will gently remove the temporary one to ensure a pain-free experience. From there, you'll be able to fully enjoy your new and improved smile!
Whether a once dull toothache has turned extremely painful or a large chip is hindering your ability to chew properly, our dentist in Granger would love to help restore your smile. Contact our office today to schedule your appointment!