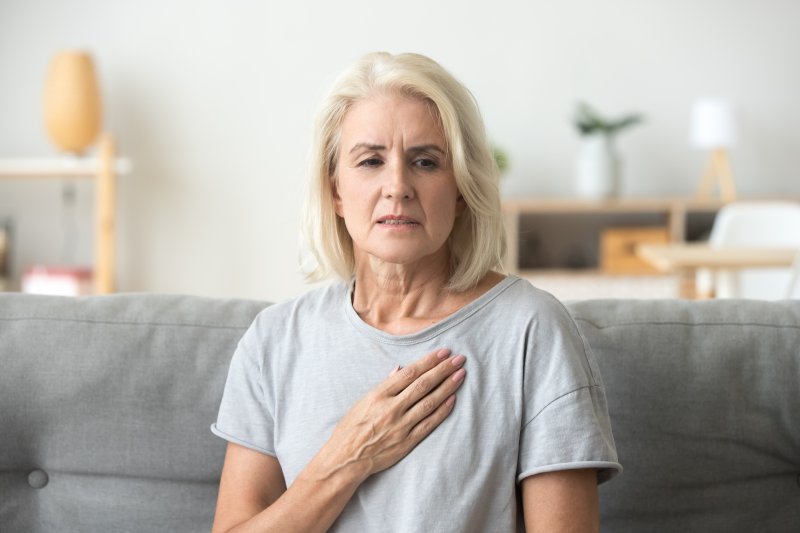 You've blinked your eyes again and February is here! The first thing you probably think of is Valentine's Day, but there is another reason why you should be thinking of your heart. It is American Heart Health Month! This is the perfect time to learn more about how to keep your heart as strong as possible for many years to come. One way is by caring for your smile. Continue reading to learn about the relationship between your smile and your heart.
How Is the Health of Your Smile and Heart Related?
Gum disease is something that can affect the health of your heart. In fact, people who have gum disease are two to three times more likely to have a stroke, heart attack, or another cardiovascular event. Gum disease, also known as periodontal disease, affects approximately half of all Americans who are over the age of 30. This condition is defined as an infection of the soft tissue surrounding and supporting the teeth. When left to progress, periodontal disease can lead to irreversible gum recession, loose teeth, and tooth loss.
Heart disease is a blood vessel disorder that can lead to a heart attack when the blood flow becomes blocked. The exact nature of the relationship between the two conditions is still unclear, but it is known that inflammation that is caused by periodontal disease can contribute to this process.
5 Tips for Preventing Gum Disease
Brush Twice Daily: You should be brushing your teeth twice daily in order to remove food debris and plaque from your teeth. Use a soft-bristled toothbrush and a fluoridated toothpaste for at least two minutes each time.
Floss Every Day: Brushing isn't enough by itself. You should be flossing at least once a day so that you can clear away food particles, plaque, and bacteria from between the teeth and beneath the gumline.
Visit Your Dentist: You should see your dentist every six months for regular cleanings and checkups. If they detect any sign of gum disease in Granger, it can be treated early on before becoming too serious.
Don't Use Tobacco Products: Using tobacco products doubles your risk for developing gum disease and is linked to oral cancer. Talk to your doctor, friends, and family about the best ways for you to cut them out of your life for good.
Understand Your Risk: Many things play a role when it comes to your risk for gum disease. They include age, genetics, and diet. Be aware can help you take the much-needed steps to keep your smile healthy.
Your oral health and overall wellbeing have more in common than you may think. By using the tips listed above, you can keep you smile and heart happy and healthy for many years to come.
About the Author
Dr. Kevin T. Campbell is an experienced dentist who has been working in the field for 38 years so far. He earned his Doctor of Dental Surgery from Indiana University School of Dentistry and is committed to continuing education. He is currently a member of the American Dental Association and the Indiana Dental Association. For more information or to schedule an appointment in Granger, visit his website or call (574) 277-4235.